The Week in Review
What I've Written
Sunday: Happy Easter
Since chocolate doesn't travel well through the internet, I've got a different gift for you.
Monday: Housekeeper
The strange tale of Miranda, who just wanted a little help around the house.
Tuesday: Statue
An artefact that shouldn't exist is found in western Queensland. People who touch it die.
Wednesday: Sleepless
Sometimes it's hard to get to sleep.
Thursday: Sulphur
A body has been found buried in sulphur. Jo Burns and her team are on the case.
Friday: Cat Bed
Princess has found herself a new cat bed. It's a towel. It's right against the back door.
A Blast from the Past
Feb 2022: No More Flowers
An expensive floral arrangement arrives for Isabelle at her work.
What I've read (reviews)
Unrepentant short story by Dawn Benedict (Rhymes, Dreams, Fantasy and Thoughts) A very short story about a naughty dog. Killer's photo with a huge doggy grin on such a small dog really go well with the story of naughtiness.
I am Groot short story by Nancy Richy (The Elephant's Trunk) Don't mess with the tree or its broken branch, and keep your sticky fingers to yourself.
Being Seen on Screen at talk ACMI (and meeting Geena Davis) by Carly Findlay (Carly Findlay) Carly Findlay lives with ichthyosis, and speaks up for visibility for people with disabilities. In this post she shares her talk from a panel called Bodies on Screen at a conference. Film and television do not currently reflect the proportion of the population living with disability, and when it does portray people with disabilities, non-disabled actors often play the part. On the occasions where actors with disabilities are employed, they often find accessibility issues. (Which, in my mind, makes film and television pretty much the same as every other aspect of life. My personal pet peeve is public places that don't have options other than stairs, or hide those other options.)
Baby Bunny poem by PoetPas (Witty Words) a cute descriptive poem describing an adorable little bunny just living its adorable little bunny life, unaware of lurking danger.
April poem by Yassy (Yaskhan) a beautiful, descriptive poem, a painting in words.
---
If I read it and I like it, or find it interesting, it goes in here. I try to only include one item from any single author in a week (even if I loved a number of things they published), because otherwise the list would get over-long.
I don't do paid reviews, but I do accept recommendations, and even review copies of books, so if you'd particularly like me to review something, tell me about it.
A look at a book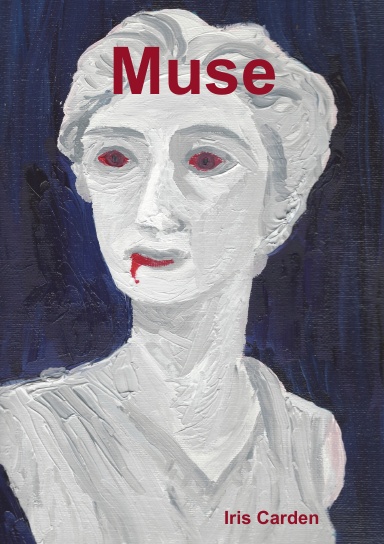 Muse
Rescuer? Predator? Imaginary childhood friend? Artist's muse? Goddess? Ancient unspeakable evil? All of these and worse? You always knew you didn't imagine that shadow that moved, the thing lurking just outside of your field of view, the items that weren't where you left them. You always knew, but you chose to ignore it, because the alternative was unthinkable. From the slightly warped mind of author Iris Carden, comes a monster who can give you everything you ever wanted, for a price. The catch is, you don't know the price when you accept deal. When a failing author and an artist at the start of her career discover inspiration comes at a cost, and the consequences will outlive them both. (This book is absolutely not for kids.)
Reviews for Muse:
Perfect October read……or any time, actually! Muse is a very fast paced, creepy story filled with some unique characters. Iris Carden gives you a good reminder of why if something seems too good to be true, you should RUN! – Dawn (Amazon)
Goosebumps! Great read! No feet left sticking out of the covers after reading this one! Yet another great book from Iris. Looking forward to the next publication! – TvR (Amazon)
---
While you're here…
Find my Books:  Direct from the publisher
                               From Amazon
                               Or from your favourite online bookshop
Follow Me: Twitter / Facebook / Instagram
Digital Tip Jar: PayPal Me
Everything on this site is the product of human, not artificial, intelligence.