The Week in Review
What I've Written
Monday: Plants
The strange tale of Sharon who got a job offer that seemed too good to be true.
Tuesday: Bloodstone
Jo Burns has been given a very rare jewel. Her problem is that others want it.
Wednesday: Adventures in Brain Fog
The day I lost my mind
was like any other day
except my mind just wandered
and it stayed away.
Friday: Walk
Fanta loves meeting new friends on her walk.
Family Lies Chapter 15: Brother
Emily learns the man in police custody is her half brother, and forms a plan on how to deal with her ex-husband's constant calls.
A Blast from the Past
March 2022: Edward Bilby's New Job
Edward Billy's is surprised to discover the door to his burrow blocked by a feral rabbit. The rabbit, known as EB, wants to offer him a job.
What I've Read
If Our priority is protecting children nudity in changerooms is not what we should be afraid of by Van Badham (Guardian Australia) A surf club banned nudity in their changerooms. Van Badham argues it's impossible to change from one set of clothes to another without some transitional nudity. There's some wonderful writing in this opinion piece, such as this: if a changeroom appears in a forest but prohibits anyone from changing in it, isn't it just a shed? Apart from the cutting wit, there are some useful facts, and some serious social commentary in this.
The Fearsome Flush: When Chipotle Triggers Armageddon short story by Anthony Robert (Tony's Bologna) A funny story about a heroic plumber out to save the world from the Fearsome Flush.
On a Beach in Astronomical Twilight poem by M. Espinosa (M. Espinosa) A poem full of wonder about the distance light travels from stars to our eyes.
Butterflies Dreams poem by T. Maxwell-Harrison (Psychedelic Wizard) A beautiful descriptive sonnet, celebrating Easter.
Sea Canaries poem by Grace Y. Estevez-Reddy (Grace of the Sun) This is a lovely poem about a beluga whale.
---
If I read it and I like it, or find it interesting, it goes in here. I try to only include one item from any single author in a week (even if I loved a number of things they published), because otherwise the list would get over-long.
I don't do paid reviews, but I do accept recommendations, and even review copies of books, so if you'd particularly like me to review something, tell me about it.
A Look at a Book
Since it's the Easter weekend, let's look at something from my former life.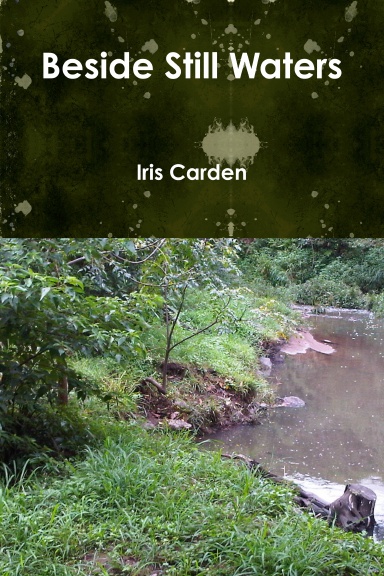 Beside Still Waters
A book of sermons and brief reflections on Christian Scripture, by Rev Iris Carden. There is no specific order to the items in the book, they are intended to each be a "surprise" in that they are not related to the items around them. It is hoped that in each, the reader will find something new or special, or unexpected, a message from God. Rev Iris Carden has a Master's Degree in Theology and more than 10 years of experience as a Christian minister.
---
While you're here…
Find my Books:  Direct from the publisher
                               From Amazon
                               Or from your favourite online bookshop
Follow Me: Twitter / Facebook / Instagram
Digital Tip Jar: PayPal Me
Everything on this site is the product of human, not artificial, intelligence.