The Week in Review
What I've Written
Monday: Group Meeting Chapter 8
I didn't miss chapter 7. In a cloud of lupus brain fog, I published it last week, before I published chapter 6. I promise it's more frustrating for me than it is for you.
Tuesday: Kiri Koala and Smokey
Children's story: A fire near the zoo has left a baby koala hurt and alone. Kiri Koala plans to help.
Wednesday: Sleep
Being crowded by animals can make it hard to get to sleep.
Thursday: The Garden
Carla has woken up with no memory of her past. No-one will answer her questions.
A Blast from the Past
February 2022: The Stopover
The story that began the Mars series.
What I've Read
Restless Minds poem by Emma Grigg (EJ Grigg author) A poem everyone who has struggled with falling asleep can relate to.
I'd Like to be a Cat poem by Phil Lister (Listerlyrics) Phil Lister would like to be a cat. After he lists all the awesome things about being a cat (food supplied, daydreaming all the time, etc), who wouldn't want to be?
Kiss Me, I'm Irish, a story of Beads, Booze and Bad Attitudes short story by Anthony Robert (Tonysbologna: Honest. Satirical. Observations). Apparently it's a crime to not wear green on Saint Patrick's Day, or at least one character in this story thinks so. A simple story of a weird encounter with someone who is carried away with the spirit of the day, the spirit they drank, or both.
The Sins of the Father short story by Nancy Richy (The Elephant's Trunk). Even If you don't read any other of my recommendations here, read this one. This is powerful. Donal has a plan for his son Danny's life. Danny has other plans. What kind of father would refuse to love his son? Could age and infirmity change his mind?
The Battle of Petty Revenge, An Office Story short story by Anthony Robert (Tonysbologna: Honest. Satirical. Observations). If you need some humour after the intensity of the previous story, this is intense in another way. Someone is sending nasty emails in the office, complaining of other's incompetence, threatening jobs. Who really made the mistake?
---
If I read it and I like it, or find it interesting, it goes in here. I try to only include one item from any single author in a week (even if I loved a number of things they published), because otherwise the list would get over-long.
I don't do paid reviews, but I do accept recommendations, and even review copies of books, so if you'd particularly like me to review something, tell me about it.
A Look at a Book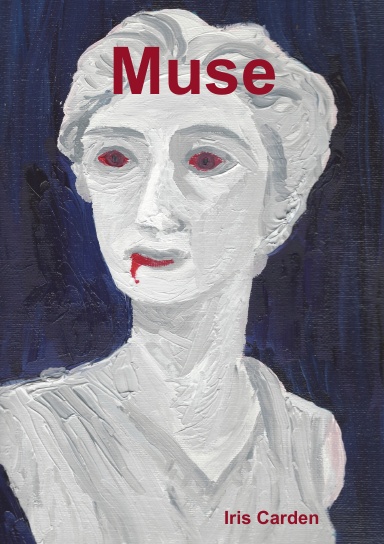 Muse
Rescuer? Predator? Imaginary childhood friend? Artist's muse? Goddess? Ancient unspeakable evil? All of these and worse? You always knew you didn't imagine that shadow that moved, the thing lurking just outside of your field of view, the items that weren't where you left them. You always knew, but you chose to ignore it, because the alternative was unthinkable. From the slightly warped mind of author Iris Carden, comes a monster who can give you everything you ever wanted, for a price. The catch is, you don't know the price when you accept deal. When a failing author and an artist at the start of her career discover inspiration comes at a cost, and the consequences will outlive them both. (This book is absolutely not for kids.)
Reviews for Muse:
Perfect October read……or any time, actually! Muse is a very fast paced, creepy story filled with some unique characters. Iris Carden gives you a good reminder of why if something seems too good to be true, you should RUN! – Dawn (Amazon)
Goosebumps! Great read! No feet left sticking out of the covers after reading this one! Yet another great book from Iris. Looking forward to the next publication! – TvR (Amazon)
---
While you're here…
Find my Books:  Direct from the publisher
                               From Amazon
                               Or from your favourite online bookshop
Follow Me: Twitter / Facebook / Instagram
Digital Tip Jar: PayPal Me
Everything on this site is the product of human, not artificial, intelligence.