The Week in Review
What I've Written
Sunday: Hand
The strange tale of Evelyn who discovered dreams could become nightmares.
Monday: Countess
Something terrible has happened to a member of the Human Defence Unit staff. Fortunately, the Countess Anastasia Arafami is here to help.
Tuesday: Gone to Sea
Father has gone to sea, leaving his family to the easy, and safe, life on land.
Wednesday: Another Earth
Suppose we found another Earth
somewhere out in space.
Would we care for it any better
Than we've done with this place?
Thursday: Creature
On a foggy day in Brisbane, someone took a photo of something strange.
Friday: Thinning the Floof
The human has found a new way to help Princess cat cope with the horrible heat.
A Blast from the Past
10 Feb 2022: Scandal
Archibald Clark has found himself in the middle of a political scandal.
What I've Read (reviews)
Helen Garner on Happiness: "It's Taken me 80 years to realise it's not a tranquil, sunlit realm." by Helen Garner (The Guardian) It's a look at happiness, how it's not achieved, but like the Christian concept of grace, it's something that just happens unearned. She talks about how, instead of looking for happiness, she now looks for "random stabs of extreme interestingness", which she writes down. She goes on to share some of those things.
I Fell Through Hell short story by Ryan Scorpio-Rhys (Madd Fictional) An intriguing, and disturbing, story of a journey through multiple religions' Hells.
Sorry reviews are a bit light on this week (and next week as well). I'm on Grandma duty and that takes precedence.
---
If I read it and I like it, or find it interesting, it goes in here. I try to only include one item from any single author in a week (even if I loved a number of things they published), because otherwise the list would get over-long.
I don't do paid reviews, but I do accept recommendations, and even review copies of books, so if you'd particularly like me to review something, tell me about it.
A Look at a Book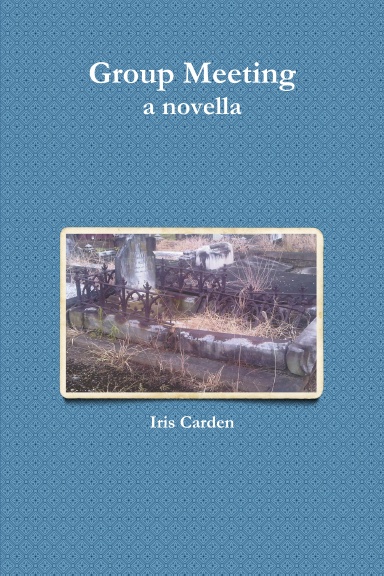 Group Meeting
(Novella) In a facility for the criminally insane, a group of people with sinister pasts starts to be visited by a girl who doesn't exist.
Reviews for Group Meeting:
Group Meeting is quite a spotlight into twisted minds and the depths of insanity…engrossing story by Iris Carden with quite the twist at the end…wow! – Dawn (Amazon)
Fascinating, with an amazing twist right at the end. Deep and varied Characterisations and emotive scene setting. It was totally unexpected, and surprised even me. Highly recommended. – Annie (Amazon)
---
While you're here…