The Week in Review
Sunday: From Pantser to Planner
I used to write by the seat of my pants. Since publishing weekly on this blog, I've learned the value of a plan.
Monday: Trouble
Orsinius Wishlet has unexpected house guests. Things are not going well.
Tuesday: Ransom
Lady Justice has gone to pay the ransom for her kidnapped child. Things will happen fast.
Wednesday: Tortoise
You're eighty years old, and still just middle aged,
you must have seen so much across the world's stage.
Thursday: Aftermath
The magical battle is over, and in the aftermath, the only question is: what to do next?
Fanta found a sneaky way to get the bed all to herself.
What I've Read (reviews)
52 Weeks: My Year of Becoming a Writer by Bridgette (Bridgette Tales) Bridgette recaps her first year of writing, how and why she began, what she has learned and what she plans for the future. It's an inspiring post for anyone who is hesitant about trying something they really want to do.
Train Ride poem by Keith Garrett (Keith Garrett Poetry) It's a poem describing a train ride, with a rhythm that makes me think of wheels clacking over rails.
Down Under short story by Dawn Renee Miller (Dawn Maree Writes) A charming story about a mermaid and her ocean friends trying to save a reef.
Stationary poem by Grace Y Estevez-Reddy (Grace of the Sun) An evocative poem comparing a statue to a living human.
A Thousand Year Old Viking Hall in Denmark Unearthed by Archaeologists by Samantha James (The Chronicles of History) Another fascinating and well-researched look at history. This post looks at what's been found in the title archaeological dig, and what is anticipated to be found in future. It also includes a wider look at Viking history and culture.
Courage by Dawn Benedict (Rhymes, Dreams, Fantasy and Thoughts) Normally when I share Dawn's stuff it's her short stories which are very well told, but this is something different. It's her reflections on the Serenity prayer, but especially on the nature of courage. It's a reminder that courage comes in many different forms.
How Autofiction Turns the Personal into the Political by Frances Egan and Beth Kearney (The Conversation) Autofiction is a blend of autobiography and fiction. It "depicts real events from the author's life, but takes liberties associated with fiction." This article looks at autofiction, and how it can tell the stories of people neglected in other forms of literature.
Roots poem by Bridgette (Bridgette Tales), a sad, beautiful, hopeful poem about a girl learning to live with the scars from invisible wounds.
The One Who Got Away short story by Anthony Robert (tonysbologna: Honest. Satirical.) This is funny. It's man against raccoon in a test of intelligence (or something like that). How will they explain this to the boss?
Discworld by Terry Pratchett. Still working my way through the third volume of ten Discworld books. It's still entertaining reading, and half my mind is over in a world carried on the back of four elephants on a giant turtle, swimming through space.
---
If I read it and I like it, or find it interesting, it goes in here. I try to only include one item from any single author in a week (even if I loved a number of things they published), because otherwise the list would get over-long.
I don't do paid reviews, but I do accept recommendations, and even review copies of books, so if you'd particularly like me to review something, tell me about it.
A Look at a Book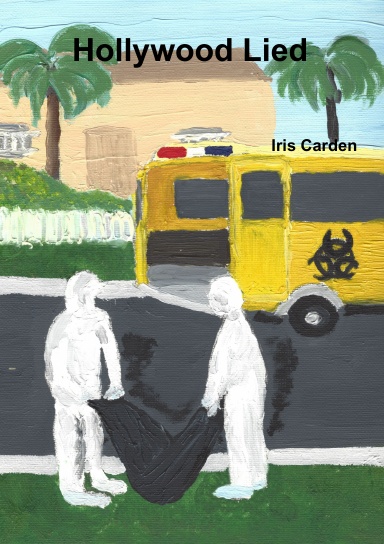 Hollywood Lied
Angela Tynehurst always kept her whole life tightly under control. Her fictional creation Farnsedale might take risks, but Angela did not. Not even a zombie apocalypse could shake Angela's stability. Then, a handsome man with dark brown eyes knocked on her door and everything changed.
Reviews for Hollywood Lied:
Riveting read. Clearly the author had a crystal ball when this was written. Interesting characters, and some unexpected twists! Really enjoyed this book. – TvR (Amazon)
Wow, gripping novel! Couldn't put it down. Quite moving. – Patricia (Lulu)
Hollywood Lied is an excellent take on a different type of Zombie, a different kind of lock-down, and the evil humanity can dream up. Engrossing story by Iris Carden! – sunup7670 (Instagram)
---
While you're here…
Find my Books:  Direct from the publisher
                               From Amazon
                               Or from your favourite online bookshop
Follow Me: Twitter / Facebook / Instagram
Digital Tip Jar: PayPal Me
Everything on this site is the product of human, not artificial, intelligence.