The Week in Review
What I've Written
Sunday: Good Enough
It's time for everyone to resolve to become a better person. But what if we all skipped it this year? What if we decided we're good enough?
Monday: A Strange Request
August Wishlet has a reputation for being able to get anything for anyone. He's never had a request like this before.
Tuesday: Rose
An ancient order of vampire killers (or possibly a role-playing game group) has invited Senior Agent Jo Burns for a meeting.
Thursday: Haunted
A family member has asked Human Defence Unit Senior Agent Jo Burns for advice.
Friday: Ball
The human attempted to replace Princess Cat's ball. You can't just replace a favourite thing.
What I've Read
Ancient History: Alexander the Great May Have Been Buried Alive by Samantha James (The Chronicles of History). In an era where murder was fairly common means of succession, empire-builder Alexander the Great died of a mysterious illness. Modern scientists have looked at the record of his symptoms, and suggested he may actually have had an autoimmune disease that caused paralysis. He could have still been alive, but paralysed, when he was buried. It's a fascinating read.
Brekkies, Barbies, Mozzies: Why do Aussies Shorten So Many Words? by Kate Burridge and Howard Manns (The Conversation) an interesting look at the diminutives in Australian English, and how some have been exported. Something interesting to read now you're back from visiting the rellies over Chrissy.
Grandma's Kitchen poem by Grace Y. Estevez-Reddy (Grace of the Sun) A sentimental reminiscence of a beloved old cafe.
Moonlight Dance poem by Dawn Renee Millar (Dawn Renee Writes) A descriptive poem, about the smoke and dust from a fire on the beach.
White Fella Clock poem by Jodine Derena Butler (Poetry Out West) A poem about a visit to the bush, at Emuford. The deadlines and demands of city life don't exist. "No white fella clock here." The poem is complemented with beautiful photography.
Daddy's Boots short story by Dawn Benedict (Rhymes, Dreams, Fantasy and Thoughts) A well-told, simple, sentimental short story about a man remembering his father.
Discworld book series by Terry Pratchett I'm still making my way through the third collection of ten books from the Discworld series. I'm still enjoying it.
A Look at a Book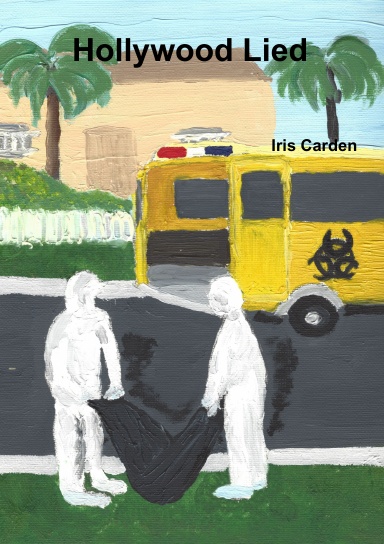 Hollywood Lied
Angela Tynehurst always kept her whole life tightly under control. Her fictional creation Farnsedale might take risks, but Angela did not. Not even a zombie apocalypse could shake Angela's stability. Then, a handsome man with dark brown eyes knocked on her door and everything changed.
Reviews for Hollywood Lied:
Riveting read. Clearly the author had a crystal ball when this was written. Interesting characters, and some unexpected twists! Really enjoyed this book. – TvR (Amazon)
Wow, gripping novel! Couldn't put it down. Quite moving. – Patricia (Lulu)
Hollywood Lied is an excellent take on a different type of Zombie, a different kind of lock-down, and the evil humanity can dream up. Engrossing story by Iris Carden! – sunup7670 (Instagram)
---
While you're here…
Find my Books:  Direct from the publisher
                               From Amazon
                               Or from your favourite online bookshop
Follow Me: Twitter / Facebook / Instagram
Digital Tip Jar: PayPal Me
Everything on this site is the product of human, not artificial, intelligence.