The Week in Review
What I've Written
Sunday: Inspiration
Sometimes I'm overwhelmed with ideas. Sometimes, I wish I could grab a can of inspiration from the pantry.
Tuesday: Krampus
Trainee Agent Harry Smythe has brought some Christmas decorations into the HDU office. The gesture is not appreciated.
Wednesday: Bubbles
A puff of breath,
trapped in a rainbow film,
floats on air,
on breeze to roam.
Thursday: Mulch
Your friendly local funeral director does not like the countryside.
Friday: Christmas Tree
Princess is a big cat now, and knows those shiny things on the Christmas tree aren't cat toys.
Saturday: Cats
Chapter 16 of my work in progress reveals why Zaratins have always been afraid of Luci.
What I've Read (reviews)
She'd Dance poem by Brian Bilston (Brian Bilston on Facebook) A beautiful, sad, poem about love, loss and dancing. Brian Bilston regularly shares great poetry – often funny, sometimes thought-provoking.
---
If I read it and I like it, or find it interesting, it goes in here. I try to only include one item from any single author in a week (even if I loved a number of things they published), because otherwise the list would get over-long.
I don't do paid reviews, but I do accept recommendations, and even review copies of books, so if you'd particularly like me to review something, tell me about it.
Note:
Sorry about the reading list being so short this week. I've had to try to get a week ahead on my writing. Things unrelated to writing are happening here next week, and will take most of my time and energy. I still do plan to publish something every day, but it may be later in the day.
A Look at a Book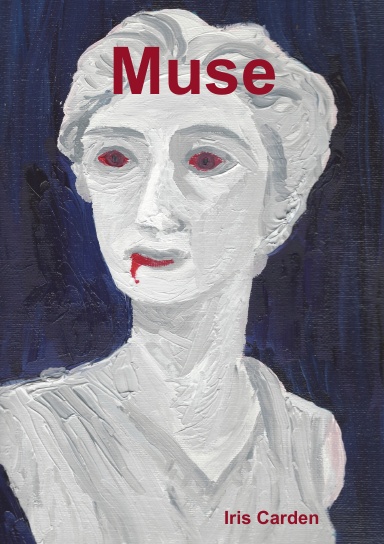 Muse
Rescuer? Predator? Imaginary childhood friend? Artist's muse? Goddess? Ancient unspeakable evil? All of these and worse? You always knew you didn't imagine that shadow that moved, the thing lurking just outside of your field of view, the items that weren't where you left them. You always knew, but you chose to ignore it, because the alternative was unthinkable. From the slightly warped mind of author Iris Carden, comes a monster who can give you everything you ever wanted, for a price. The catch is, you don't know the price when you accept deal. When a failing author and an artist at the start of her career discover inspiration comes at a cost, and the consequences will outlive them both. (This book is absolutely not for kids.)
Reviews for Muse:
Perfect October read……or any time, actually! Muse is a very fast paced, creepy story filled with some unique characters. Iris Carden gives you a good reminder of why if something seems too good to be true, you should RUN! – Dawn (Amazon)
Goosebumps! Great read! No feet left sticking out of the covers after reading this one! Yet another great book from Iris. Looking forward to the next publication! – TvR (Amazon)
---
While you're here…
Find my Books:  Direct from the publisher
                               From Amazon
                               Or from your favourite online bookshop
Follow Me: Twitter / Facebook / Instagram
Digital Tip Jar: PayPal Me
Everything on this site is the product of human, not artificial, intelligence.