What I've Written
Sunday: Pundamonium
A bit of nonsense, which will either amuse or annoy you, depending how you feel about puns.
Monday: Cult
The strange tale of Julie who inherited a nice house in a not-so-nice street.
Tuesday: Reality
The strange tale of Hilda, who had an accident and then had a reality check.
Wednesday: Writer, Not Serial Killer
Don't annoy the author, let me tell you why.
I'll put you in a story, and I'll make you die.
Thursday: Grey
From the pale grey full moon to the dark grey shadows under the tree, the wolf saw the world in a gradient of grey. Something told her it hadn't always been like that.
Friday: Epic!
Mr Bumpy Cat's epic tale of jealousy and revenge.
Saturday: Betrayed
Chapter 14 of my work in progress. Bombs are placed, questions are asked.
What I've Read (reviews)
Impactful poem by Grace Y. Estevez – Reddy (Grace of the Sun) A gentle reminder of the power of words.
A Remnant of Earth short story by Lady Jabberwocky (Write With Heart) A very well-crafted 100 word story, which demonstrates why it's worth reading Lady Jabberwocky's writing tips.
Brother Peace, Sister Love. For Ukraine. poem by John Castellenas (JOHNCOYOTE) A former soldier laments war as man's sin.
Dead Couples poem by Poetpas (Witty Words) A sad poem about the loneliness of couples fallen out of love.
The Mall Santa in November poem by Bridgette (Bridgette Tales) A poetic reminder that Santa's much happier and more fun before the endless December crowds.
A Look at a Book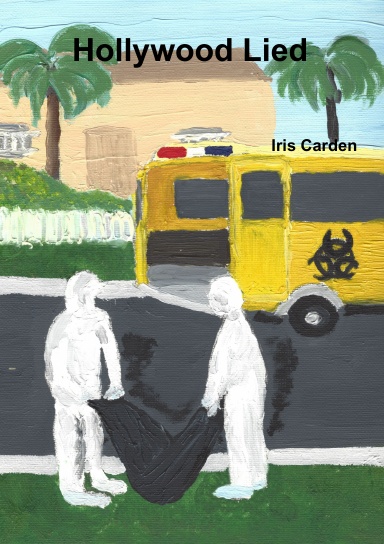 Hollywood Lied
Angela Tynehurst always kept her whole life tightly under control. Her fictional creation Farnsedale might take risks, but Angela did not. Not even a zombie apocalypse could shake Angela's stability. Then, a handsome man with dark brown eyes knocked on her door and everything changed.
Reviews for Hollywood Lied:
Riveting read. Clearly the author had a crystal ball when this was written. Interesting characters, and some unexpected twists! Really enjoyed this book. – TvR (Amazon)
Wow, gripping novel! Couldn't put it down. Quite moving. – Patricia (Lulu)
Hollywood Lied is an excellent take on a different type of Zombie, a different kind of lock-down, and the evil humanity can dream up. Engrossing story by Iris Carden! – sunup7670 (Instagram)
---
While you're here…
Find my Books:  Direct from the publisher
                               From Amazon
                               Or from your favourite online bookshop
Follow Me: Twitter / Facebook / Instagram
Digital Tip Jar: PayPal Me
Everything on this site is the product of human, not artificial, intelligence.