What I've written
Sunday: The Dream of a Cure
Lupus patients dream of a cure. Recent research may bring us a step closer.
Monday: Money
Someone has run off with your friendly local funeral director's ill-gotten gains. Fortunately, that deluxe coffin has a lot of space.
Tuesday: Movie
A very silly little story about two people choosing a movie to watch.
Wednesday: Dust
Poem: "Dust you are and to dust you will return" I am dust. I am carbon and oxygen and hydrogen…
Thursday: Spacey Stacey
For Christmas 2023, there was just one toy girls wanted, but don't get this particular one second-hand.
Saturday: Census
In chapter 8 of my work in progress, a Zaratin census has begun, to assess the work survivors will be assigned.
What I've read
Chronic Pain and Mental Health: Five Detrimental Effects (Invisibly Me) Anyone with chronic pain knows the problem isn't only pain, it's the physical and mental drain of living with pain that affects their entire life. This post lists, and explains, five of the mental health aspects of living with chronic pain. It's worth reading if you live with constant pain, or know someone who does.
Meet Me At the Elephant Ears Short story by Bridgette (Bridgette Tales) In a world similar to our own, but also very different, two teenagers sneak out at night. They explore, talk about plants, and witness something terrible. It's a great story, and very well told.
The Secret Behind Writing Meaningful Character Deaths by Lady Jabberwocky Lady Jabberwocky's blog is a treasure trove for writers. Her weekly prompts give us ideas for stories (most weeks at least one of my stories is inspired by her prompts). She also gives us great information about honing our craft, which is what this post is about. Killing off a character needs to serve a purpose, and Lady J. here talks about potential purposes and impacts.
The TGA is Considering Paracetamol Restrictions Due to Poisonings – but What Does that Mean for Consumers? by Natasha Gisev and Ria Hopkins (The Conversation) The number of paracetamol poisonings around Australia has led to the Therapeutic Goods Administration starting to look at how the drug is sold and large the packs are. It is possible that the larger dose, slow-release tablets used by those of us with chronic pain conditions may need to become prescription-only medicines. There needs to be a balance between people needing a useful drug, and people misusing it.
A look at a book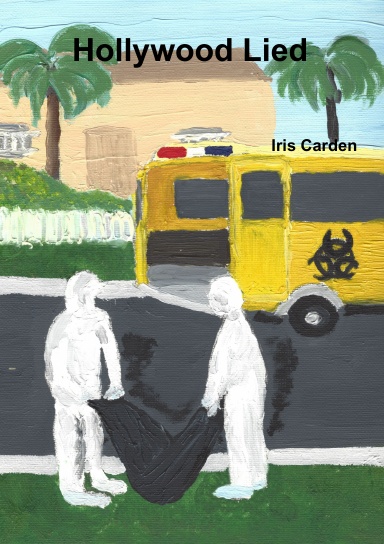 Hollywood Lied
Angela Tynehurst always kept her whole life tightly under control. Her fictional creation Farnsedale might take risks, but Angela did not. Not even a zombie apocalypse could shake Angela's stability. Then, a handsome man with dark brown eyes knocked on her door and everything changed.
Reviews for Hollywood Lied:
Riveting read. Clearly the author had a crystal ball when this was written. Interesting characters, and some unexpected twists! Really enjoyed this book. – TvR (Amazon)
Wow, gripping novel! Couldn't put it down. Quite moving. – Patricia (Lulu)
Hollywood Lied is an excellent take on a different type of Zombie, a different kind of lock-down, and the evil humanity can dream up. Engrossing story by Iris Carden! – sunup7670 (Instagram)
---
While you're here…