What I've written
Sunday: Ginger Beer Recipe
For something completely different, the recipe for my favourite probiotic drink. Home made is much better than bought.
Monday: Possession
A demon attempting to possess a human body makes a serious miscalculation.
Tuesday: Kids
Your friendly local funeral director is ready to help with all your body disposal needs, both "official" and "unofficial".
Wednesday: Wishing Well
Make a wish and throw a coin
into the wishing well.
Will your wish come true?
Only time can tell.
Thursday: Pharaoh
Something strange is happening at the museum.
Friday: It's Not Easy
Princess Cat says it's not easy being beautiful. (Especially if you think tricking your human is better than being groomed.)
Saturday: Jamie's Email
The next chapter of my work in progress. The survivors hear from Jamie, who has a proposition.
I've had a request from Shepherd.com to write a post about my favourite books around a theme. I've given them my favourite fictional monsters. It will be up on their site within the next four weeks or so. They're also featuring my book, Muse.
What I've read (reviews)
Scientists hail autoimmune disease therapy breakthrough by Ian Sample (The Guardian) This is good news of a great step forward in lupus treatment. So far, it's only been done with five patients. Their own T cells were altered to fight back against rogue B cells (the cause of autoimmune disease like lupus.) Their severe lupus went into remission, leaving their immune systems behaving normally.
The Overpayment short story by Rhayn Scorpio-Rhys (Madd Fictional) Calling customer service can be very frustrating at times. In this amazing story, someone calls customer service at human existence, after receiving a notice to say their LIFE will be discontinued. It's a great story, of a frustration everyone has known, in a situation no-one has known.
With a Touch of the Tapestry short story by Bridgette (Bridgette Tales) Bridgette builds a beautifully-constructed fantasy story around the actual news story of the Queen's death. It's a story of magic, destiny, sacrifice, and faithfulness to family tradition.
It Lives in Kentucky short story by Lady Jabberwocky This is a cute little short (100 word) story about an alien with limited understanding of Earth. It's humorous science fiction, a quick, fun, read.
A look at a book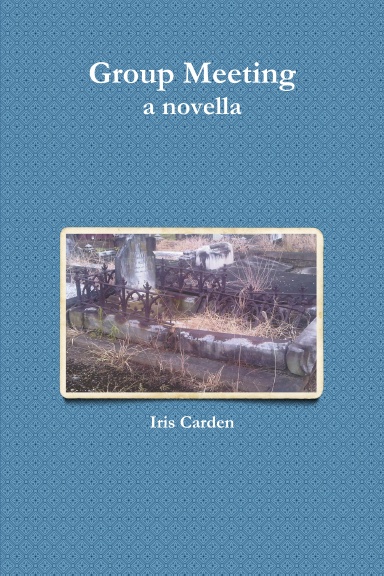 Group Meeting
(Novella) In a facility for the criminally insane, a group of people with sinister pasts starts to be visited by a girl who doesn't exist.
Reviews for Group Meeting:
Group Meeting is quite a spotlight into twisted minds and the depths of insanity…engrossing story by Iris Carden with quite the twist at the end…wow! – Dawn (Amazon)
Fascinating, with an amazing twist right at the end. Deep and varied Characterisations and emotive scene setting. It was totally unexpected, and surprised even me. Highly recommended. – Annie (Amazon)
---
While you're here…