What I've written
Sunday: Sneaky Flare
There's different kinds of lupus flares. Some sneak up.
Monday: Witch
In the latest of the Orsinius Wishlet stories, Ariana learns a disturbing family secret.
Tuesday: Fortune
A woman on holiday goes to have her fortune read, thinking it will be fun. It isn't.
Wednesday: Happy and Free
Wanda the whale
wandered the sea. 
A whale's life
is happy and free.
Friday: To Walk or Not To Walk
Fanta and her human are having an argument about the best time to go for a walk.
Saturday: Homecoming
Chapter 4 of my science fiction work in progress. Angela and her companions flee to her parent's house looking for a safe place to stay.
---
What I've read
Scrunchies and Schoolbells by Lady Jabberwocky short story. Lady Jabberwocky takes us back to the 1990s as a teenager gets ready for the first day in a new school. Are lollies and trading cards enough to make you a cool kid when you've got braces and a giant zit?
A Final Insult by Ailina Lee short story. Two old enemies reunite as an aged dragonslayer has a last attempt to defeat his nemesis. I love Alina Lee's short stories, and this did not disappoint.
Malice by Grace Y. Estevez-Reddy poem. A an evocative, sightly disturbing poem about goodwill repaid with ill will.
Dragging a Mattress by M. Espinoza poem. A story told in a poem about an everyday event that proves to be complicated.
---
A look at a book
If you enjoy horror, you might like Muse.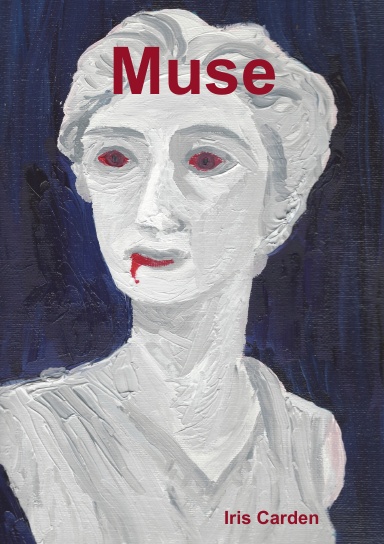 Muse
Rescuer? Predator? Imaginary childhood friend? Artist's muse? Goddess? Ancient unspeakable evil? All of these and worse? You always knew you didn't imagine that shadow that moved, the thing lurking just outside of your field of view, the items that weren't where you left them. You always knew, but you chose to ignore it, because the alternative was unthinkable. From the slightly warped mind of author Iris Carden, comes a monster who can give you everything you ever wanted, for a price. The catch is, you don't know the price when you accept deal. When a failing author and an artist at the start of her career discover inspiration comes at a cost, and the consequences will outlive them both. (This book is absolutely not for kids.)
Reviews for Muse:
Perfect October read……or any time, actually! Muse is a very fast paced, creepy story filled with some unique characters. Iris Carden gives you a good reminder of why if something seems too good to be true, you should RUN! – Dawn (Amazon)
Goosebumps! Great read! No feet left sticking out of the covers after reading this one! Yet another great book from Iris. Looking forward to the next publication! – TvR (Amazon)
---
While you're here…