What I've written this week
Sunday: Methotrexate and Healing
People with lupus used to be told wounds wouldn't heal if we took methotrexate. Recent research has changed that advice.
Monday: In My Head
A slightly disturbing little horror story.
Tuesday: Home
A woman returns to a place from her past, and makes a decision.
Wednesday: Red Sky, Black Sky
A poem about bushfire.
Remember the bushfires? Back before the floods before covid, before the other floods?
Thursday: Alone
A young child has discovered something many adults struggle to learn: that it is better to be alone than with people who hurt you.
Friday: Favourite Places
Princess Cat is a sneakypaws who loves to find places to hide.
Saturday: Survival Chapter 1
Chapter 1 of my new science fiction work in progress.
What I've enjoyed reading this week
Survival
I've started writing a new book, which is named Survival (at least that's the working title for now.) The inspiration for this came from a Twitter conversation. Another writer asked if it was better to have a strong main character, or a main character who is made strong by the trials they face. I suggested that despite the common belief, trials usually don't make people stronger, they break people, make them weaker. This person responded that people then heal and get stronger.
I thought about all of the people I know who have not healed from their trauma, and are unlikely to. These people are also worthy of stories. Real heroes are people who keep going despite their weakness and trauma, the people who put one foot in front of the other and keep going each day even though they are weak.
I decided to write a main character who just keeps on going, even though she is traumatised and broken. She doesn't see herself as the hero of the story, just a practical person who does what has to be done to survive. Along the way she is the reason others survive as well.
A look at a book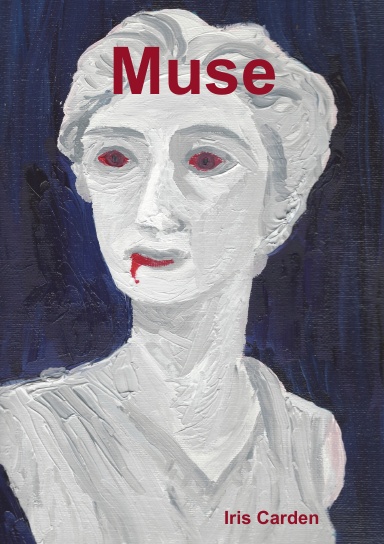 Muse
Rescuer? Predator? Imaginary childhood friend? Artist's muse? Goddess? Ancient unspeakable evil? All of these and worse? You always knew you didn't imagine that shadow that moved, the thing lurking just outside of your field of view, the items that weren't where you left them. You always knew, but you chose to ignore it, because the alternative was unthinkable. From the slightly warped mind of author Iris Carden, comes a monster who can give you everything you ever wanted, for a price. The catch is, you don't know the price when you accept deal. When a failing author and an artist at the start of her career discover inspiration comes at a cost, and the consequences will outlive them both. (This book is absolutely not for kids.)
Reviews for Muse:
Perfect October read……or any time, actually! Muse is a very fast paced, creepy story filled with some unique characters. Iris Carden gives you a good reminder of why if something seems too good to be true, you should RUN! – Dawn (Amazon)
Goosebumps! Great read! No feet left sticking out of the covers after reading this one! Yet another great book from Iris. Looking forward to the next publication! – TvR (Amazon)
---
While you're here…